Platform in Brief
FINMATEX is a Fintech Intelligence Platform with extensive possibilities for building and managing own-branded sophisticated mobile apps charged by a full spectrum of finance-related features from managing banking and investment accounts to AI-based Personal finance management.
FINMATEX is an all-in-one solution that enables Financial Organizations to offer their customers both full-cycle finance management and an exceptional, AI-based customer experience.
Individual approach
The platform can be fully customized on-
demand to the needs of each Financial Organization (paid separately).
Сomprehensive Support
24/7 support and regular software updates 4 times per year.
Our Key Differences Brings Values
for Platform's Customers
FINMATEX creates the Value for financial organization much bigger than
subscription fee for the platform itself.
AI-driven Costs and Savings
The cost of the annual subscription is equal to the annual salary of several programmers. It is impossible to develop and maintain a good product with AI by the efforts of 3-5 programmers, which means that FINMATEX helps companies to significantly cut costs and save time.
Saving Means Earning
A 5-year FINMATEX subscription costs a maximum of $2.1 MLN + $100K (an approx. cost for platform launch on your side) and saves you from $7MLN to $14 MLN. This means that your NET revenue for 5 years of FINMATEX use can range from $5 MLN to $10 MLN. This is how FINMATEX creates Value for organizations and makes ROI.
No Direct Competitors
FINMATEX provides far wider coverage of the fintech market with an extensive list of features in one solution, comparing with many well known competitors. The AI-enabled platform is universally suited for different financial institutions: banks, credit unions, financial advisors, investment funds, and others.
Your organization may annually save up to...
$1 MLN per year
on clients interactions, sales costs,
consultations
From $800K
on the advertisement and new clients engagements
$1 MLN
on clients support in call centers and chats
Up to 3 hours
Could be saved by clients per months for interactions around organization's fin. services
+15% per year
New clients attraction rate growth in comparison to non-FINMATEX partners
Up to 30%
Clients satisfaction rate can be grown
*This is indicative numbers for organization with minimum 2000 employees and minimum 50 K clients. Real saving may varies depending form particular case at organization.
AI in personal finance
The individual face of our platform is in its AI. Our unique AI in personal finances and investments management, in combination with all traditional banking functionality and flexibility, is our biggest competing advantage.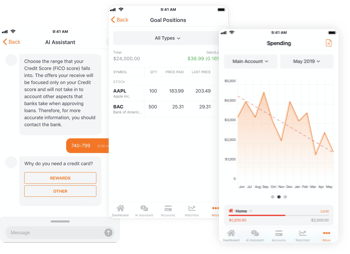 Mobile Apps for Your Clients
White-labeled and deployed into your App Store and Play Market
All necessary banking features for personal finance management
AI-based chatbots with financial marketplace
AI-based investments strategies
Financial organizations can personalize the necessary modules

Administrative Web App for your organization
Custom branded, accessible from our cloud or can be white-labeled and installed on your server
Financial products management to promote them in mobile app
Easy-to-use Chatbots designer to automate communication with your clients in your mobile app
Investment and Trading AI strategies based on deep Machine Learning
Integration with Plaid. Insignificant integration efforts for a financial organization
Integration with Stripe, Open Bank Project (in future)
Discover FINMATEX
Unleash your business with AI-based solutions for
Financial Organizations
All-in-one App with AI assistance for
Personal Finance Management