Platform Insides
FINMATEX Platform provides multiple configurable functional modules such as an AI-based Investments and Personal Finances management with AI-based client support.
As a part of the platform, Financial Organizations can build their marketplaces backed by ChatBot assistants or create robo-advisors for assets management. ChatBot designer is a part of platform and can be used for building chatbots for mobile applications. These are easily managed due to ready-to-use Products Templates and chatbot designer which opens wide abilities for customizing products, its ordering automation and customer support.
This is the out of the box solution – it quickly and smoothly integrates into an existing environment of Financial Organizations.
Necessary integration can be done by FINMATEX Team within of Starter Plan used for enabling of FINMATEX Platform. FINMATEX Platform can be customized by separate agreement with Financial organization.
Custom branded Mobile App for Your Clients managed via Platform
Marketplace with your
products
Personal finances
management
Saving and banking
Investments management
AI investments strategies
AI managed advisers
AI in Personal finance
and more…
Administrative Web App for Your Organisation
Mobile app configurations and branding
Financial products management to present in the mobile
app
Chatbots designer to automate communication with your clients in the mobile app
AI strategies based on deep Machine Learning
and much more…
Mobile App for Your Clients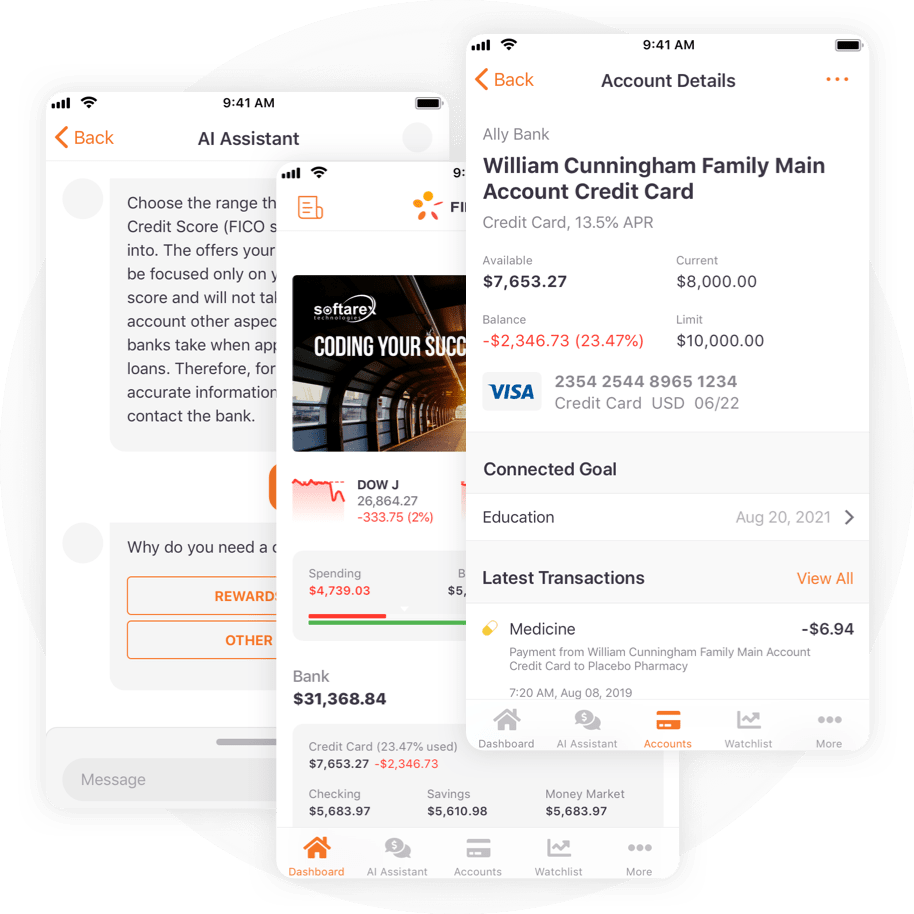 FINMATEX provides you a fully customizable mobile app with your financial products. You can tailor the app exactly for the needs of your organization and your clients' needs.
The app is very flexible and can be easily fine-tuned according to your client's needs, providing them the best-in-class financial solutions with a user-friendly interface.
White labeled, deployed into your App Store and Play Market
All necessary banking features for personal finance management
AI-based chatbots with financial marketplace
Financial organizations can configure necessary modules for their mobile applications
Grant your clients user-friendly access to the management of their budgets, finances, accounts, and more via your branded mobile app.
Personal Finances management
Creating financial goals and monitoring
Accounts and Transactions info
Transactions and transfers Categorizer
Manual changing and split categories
Conducting of ACH, Wire and P2P transfers
View Spending/Income and creation of a budget
Consulting and selection of bank products
Consulting about financial terms and products
Expenses, budget monitoring, savings tips, and reporting
Ordering new products and services
ATM/Branches location
Information about loyalty points
Deliver your users comprehensive data about a financial stock market, traders statistics, equity history, and investment and trading strategies based on the FINMATEX AI.
Financial stock market data
Accounts and trading info
Positions, Portfolio and Equity history
Retirement benefits and goal calculator
Bank module and bank transaction
Periodical financial and investment report
Management of AI strategies
Personal financial plan and investment profile
Control and re-balanсing portfolio
Chart, Watchlist, Orders, News
Сonsulting and selection of investment products
Ordering investment product and services
All your apps are automatically powered with FINMATEX AI, which learns from your clients' behavior and provides them the tailored advice and help.
AI in Personal Finance:
Expenses and income analysis
Client's financial health analysis
Savings recommendations
Creation of a personal financial plan
AI in Investment:
Creation of a customer investment profile
Creation of a portfolio structure
Supervision for portfolio ratios and rebalancing
Deep machine learning for investments strategies suggestion
AI in Consulting:
Consultation about financial products and services
Selection of the most matching products and services
Tips for products and services use
Administrative Web Portal Features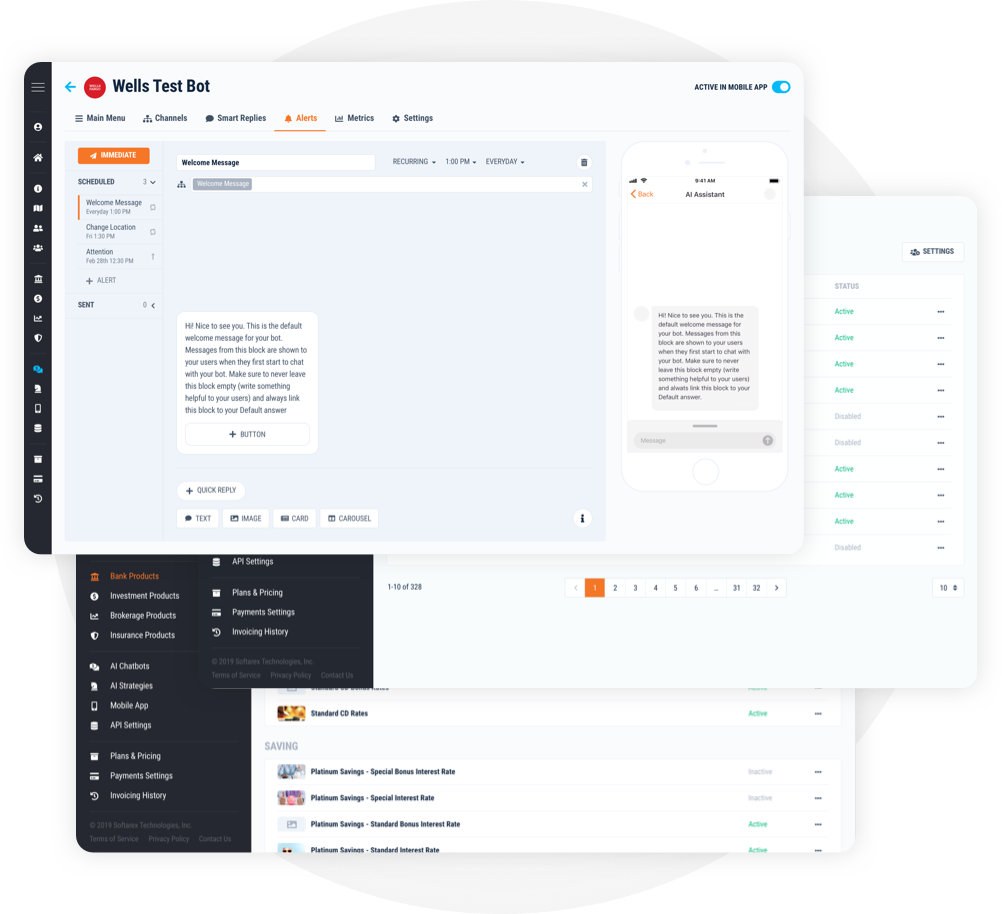 Every Financial Organization is passionate to provide the highest standard of reliable service, uniquely tailored to suit the individual needs of their client. Using these Finmatex features, Financial Organizations can promote sustainability within their communities flexibly.
Configure your mobile app modules
Set branding for your mobile app
Set info about your company
Manage your clients and employees
Integration with Plaid, Yodlee and other providers
These platform's functionalities designed especially for Banks, Brick&Mortar, Online Banks, Credit Unions, and Neobanks. Using these features, organizations may definitely improve clients' support, products and services management, provide more additional services to clients, decrease costs for support and sales.
Create Banking products with templates or from scratch
Promote Banking products to your clients in the mobile app AI-based marketplace
Processing of client's ordered products and services
Create custom AI chatbots for your mobile app
ATM/Branches locations management
With these features Investment Companies, Investment Funds, Investment advisers, Wealth management companies, and Cryptocurrency funds can easily become closer to their clients: understand their spending intentions and pick the best investment plan from own portfolio.
Create Investment products with templates or from scratch
Promote Investment products to your clients in the mobile app marketplace
Promote Banking products to your clients in the mobile app AI-based marketplace
Processing of client's ordered products and services
Create custom AI chatbots for your mobile app
Risk management
Portfolio management
Platform's unique AI is enhanced with a powerful expert base, constantly learns from your clients' behavior, creates tailored advice, strategies and much more.
Option strategies, Arbitrage strategies, Structured products
Creating and testing of algorithmic trading strategies
Creating AI strategies based on deep machine learning
Investments Robots control
Robo advising
Creation of an investment client profile