Banking Features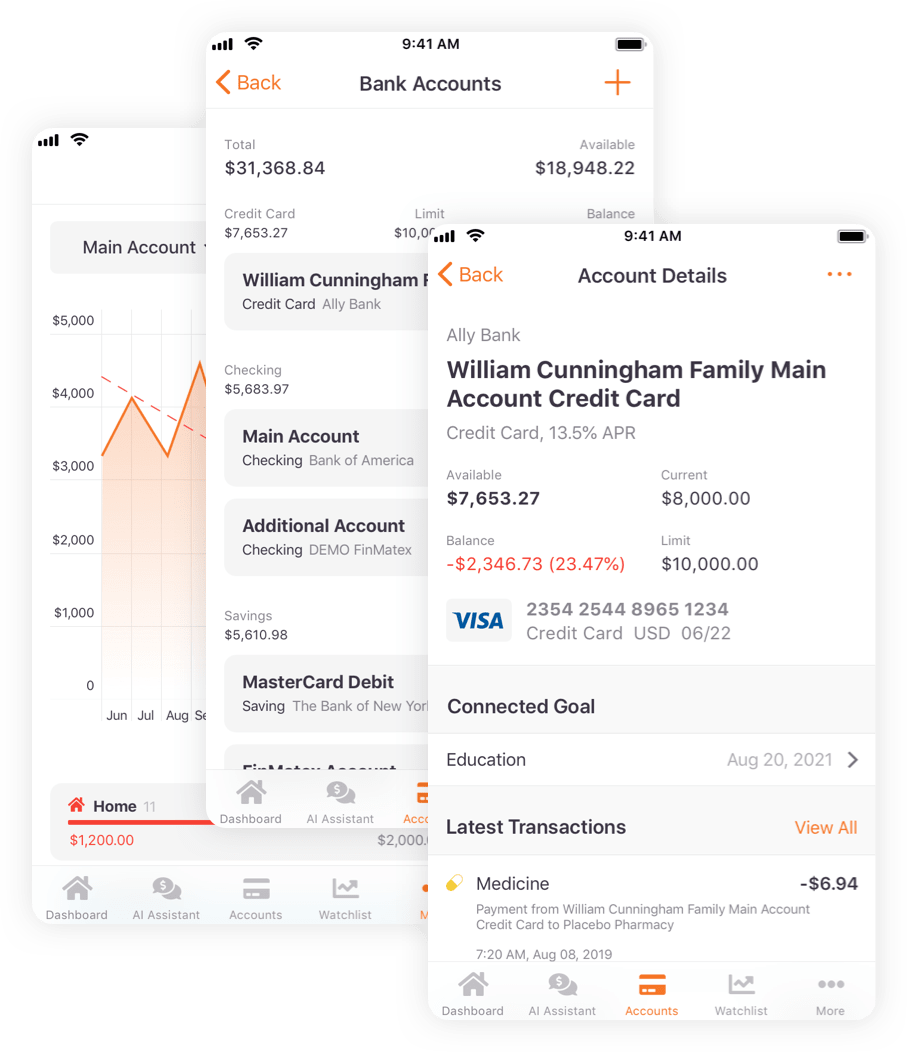 Banking Features
You can manage your budgets, finances, bank accounts, and transactions
as well as ordering new products and services online.
The app helps you to set your financial goals, track progress and gives
you savings tips based on your spendings, and a lot more.
Personal Finances management
Creating financial goals and monitoring
Accounts and Transactions info
Transactions and transfers Categorizer
Manual changing and split categories
Conducting of ACH, Wire and P2P transfers
View Spending/Income and creation of budget
Consalting and selection bank products
Consulting about financial terms and products
Expenses, budget monitoring, savings tips and reporting
Ordering new products and services
ATM/Branches location
Information about loyalty points
Investment Features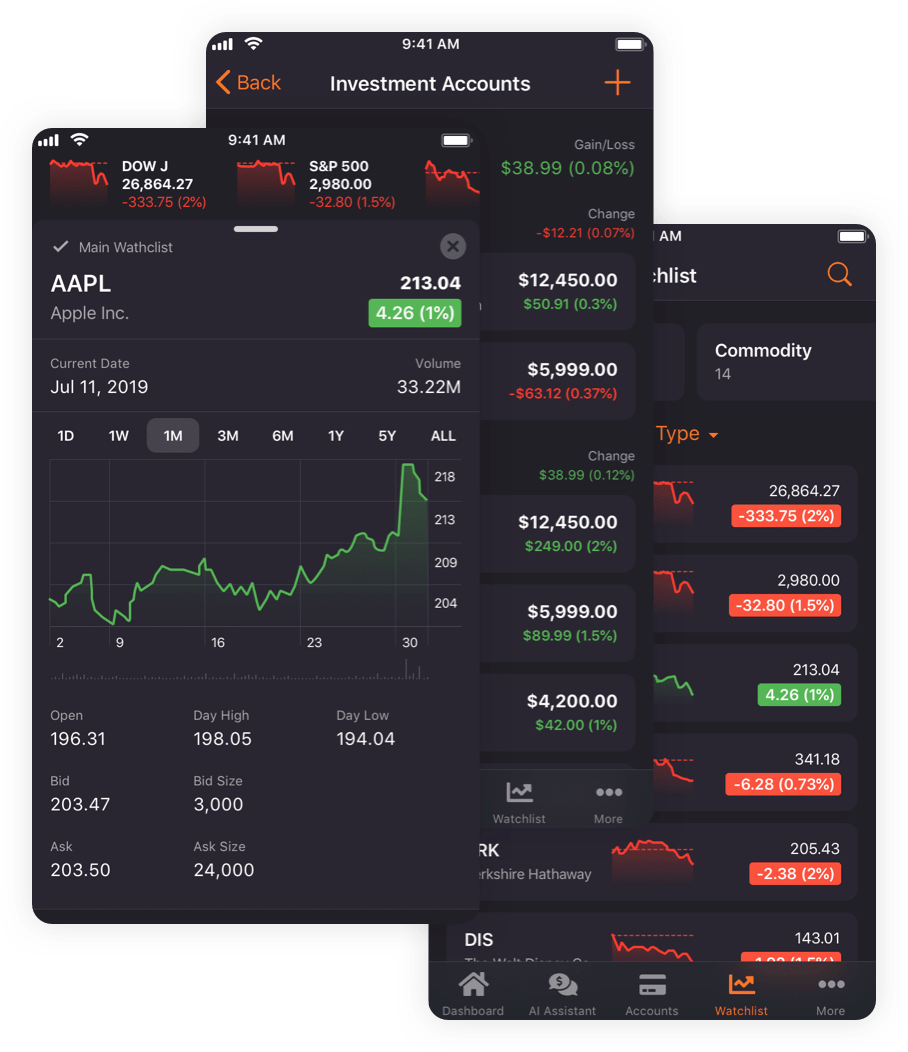 Investment Features
The app grants users a comprehensive data about the financial stock
market, traders statistics, equity history and more. Users also can receive
investment and trading strategies based on the platform's AI.
Financial stock market data
Accounts and trading info
Positions, Portfolio and Equity history
Trader statistics
Retirement benefits and goal calculator
Bank module and bank transaction
Peoredical financial and investment report
Personal financial plan and investment profile
Control and re-balanсing portfolio
Chart, Watchlist, Orders, News
Сonsulting and selection of investment
products
Ordering investment product and services
Platform for creating investment AI and trading strategies
Management of AI strategies
AI-Based Features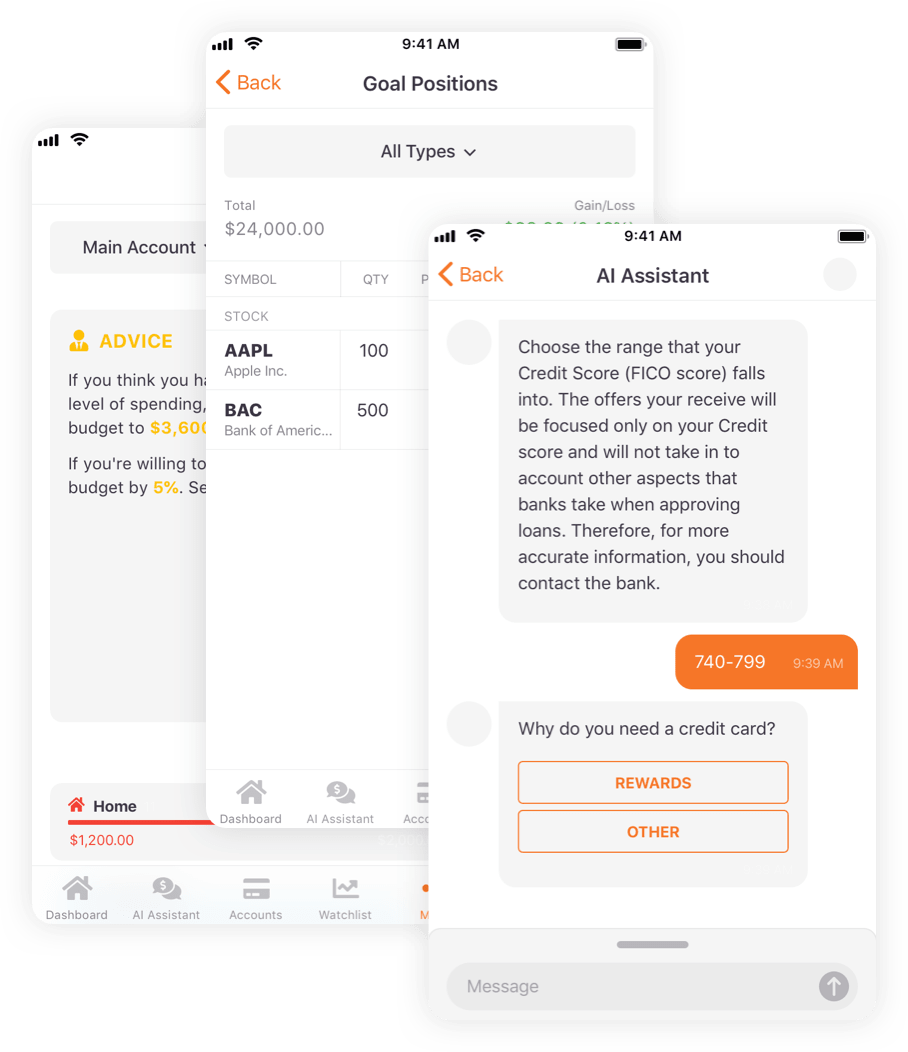 AI-Based Features
FINMATEX is powered with its own AI, which constantly learns from your
financial behavior and provides you the most personalized and eligible
advice.
AI in Personal Finance:
Expenses and income analysis
Client's financial health analysis
Savings recommendations
Creation of a personal financial plan
AI in Investment:
Creation of a customer investment profile
Creation of a portfolio structure
Supervision for portfolio ratios and rebalancing
Search for information on the internet
Deep machine learning for investments strategies suggestion
AI in Consulting:
Consultation about financial products and services
Selection of the most matching products and services
Tips for products and services use
Let's AI Help You Manage Personal Finances!
Connect one banking and ane investment accounts
Transactions Categorizer
Modify and split categories
View Spending/Income
Create budgets
Find financial products
Consulting about financial terms
Loyalty points info
Monthly Spending reports
Positions, Portfolio
All from Starter, plus:
Connect unlimited banking and investment accounts
Create financial goals
Retirement benefits and goal calculator
Weekly spending and budget reports
Conducting of ACH and P2P transfers
Pay Bills
All from Starter and Medium, plus:
Create personal financial plans
Deep spending and income analysis
Assets and credit analysis
Savings recommendations
Create long term financial goals, testing and stress testing, structure of portfolio
Promote Financial Products to Your Clients
With AI
Enable in minutes for your organization tools for clients satisfaction growing and products ordering based on AI. Promote your products and services in the FINMATEX mobile app to your clients, using it as a powerful tool for growing clients satisfaction and reducing time for products and services ordering based on AI.
Sign Up for
FREE
Fill Out Company
Profile
Manage Financial
Products
Push Products
to Marketplace